All-in-one for audiophiles. Powerful, compact, striking.
The IS-10 is the new All-In-One of our compact series of electronics, a complete High-End stereo system featuring a powerful stereo integrated amplifier 90W into 8Ω (140W into 4Ω), and D/A converter with high-resolution streaming – supporting up to PCM 32bit/384kHz and DSD256. It also includes an audiophile headphone preamp with a 6,3 mm connection to drive any type of headphones. Features a cutting-edge streamer, IS-10 supports high-resolution files, such as MQA and DSD (up to DSD256), providing the best audio quality to enjoy your favorite songs. Fully Roon Ready, it's compatible with Tidal, Tidal Connect, MQA, Qobuz, Spotify and Deezer (via LAN, Wi-Fi and Bluetooth).
In addition, the IS-10 works also as a monoblock when matched with a PA-10 EVO power amplifier, increasing the power output to 280W @ 8Ω.
MULTI-ROOM AND NETWORK STREAMER
The IS-10 is a device with a plug&play installation and it is fully compatible with multi-room systems. You can stream your favorite music through Roon, Airplay, Tidal, MQA, Qobuz, Spotify, vTuner, and Deezer or access your collection of digital music stored locally on a NAS or a USB flash drive, controlling the device with our easy-to-use GN Control App on your smartphone or tablet (available for free on iOS and Android).
In addition, the IS-10 features also Tidal Connect to control the unit directly from the Tidal app. Simply connect it to your network and get ready to explore the limitless possibilities of high-resolution music.
MAXIMUM FLEXIBILITY AND HEADPHONES OUTPUT
The IS-10 can be controlled using the remote, the SKC, or the app GN Control, ensuring the best performance ever. Thanks the intuitive menu on the display you makes fine adjustments easily and quickly without interrupting playback. When paired with a PA-10 EVO, the IS-10 ca be set as a mono amp using the "Mono R" output and the button "M" on the rear panel and selecting "MONO" on the display menu. IS-10 also features a professional 6.3mm headphones output with two sensitivity levels (High/Low), a proprietary technology we developed to get the best out of your headphones.
ROON READY
Being Roon Ready means that Gold Note uses Roon streaming technology, for an incredible user interface, simple setup, rock-solid daily reliability, and the highest levels of audio performance, without compromise.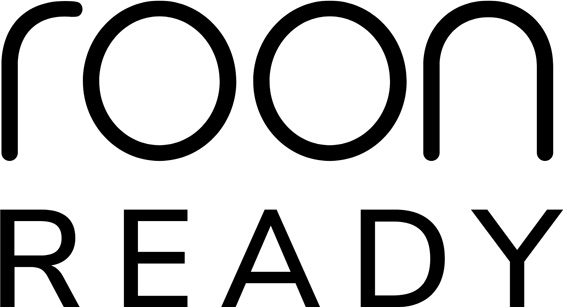 TIDAL CONNECT 
Technical specifications
MAIN FEATURES
INTEGRATED AMPLIFIER
90W @ 8Ω (stereo)
140w @ 4Ω (stereo)
280W @ 8Ω (mono with PA-10 EVO)
D/A CONVERTER
AKM AK4493
FREQUENCY RESPONSE
5Hz-50kHz (-3dB) 
THD (Total Harmonic Distortion)
0,001% (1kHz @ 1W)
SIGNAL TO NOISE RATIO
>125dB
DYNAMIC RANGE
120dB
NETWORK CONNECTIVITY
LAN & Wi-Fi 802.11a/b/g/n/ac Dual Band (10/433Mbps)
Bluetooth High-Definition 5.0 (44/16)
HIGH-QUALITY STREAMING
Roon Ready, Tidal Connect, MQA, Airplay, vTuner, Tidal, Qobuz, Deezer, Spotify Connect
SUPPORTED MEDIA SERVERS
All UPnP
DLNA 
Roon 
SUPPORTED AUDIO FORMATS
PCM up to 32bit/384kHz
DSD up to DSD256 (DSF, DFF)
AIFF (aif, aiff, aifc)
WAV (wav) packed/unpacked FLAC
WmA Windows media Audio 9
WAX Windows media audio metafiles
ASX Advanced Stream Redirector (asx)
MPEG-4 (aac, m4a , Apple lossless)
MP3
IMPORTANT UPnP server must support DSD streaming in order to stream DSD files. 
INPUTS AND OUTPUTS
DIGITAL INPUTS
2x TOS-Link PCM asynchronous up to 24bit/192kHz
1x RCA coaxial PCM asynchronous up to 24bit/192kHz
1x USB-A port DSD64 and PCM up to 24bit/192kHz, formatted in FAT32/NTFS (32Gb max for pen drives)
ANALOGUE INPUTS
2x RCA unbalanced (pairs)
AUDIO OUTPUTS
Speaker terminals: Binding posts 
PREAMP
1x Headphone output with 6.3 mm jack 
MONO RIGHT
1x RCA unbalanced (single connector)
POWER
POWER SUPPLY
100-240V, 50/60Hz
POWER CONSUMPTION
35W max
DIMENSIONS AND WEIGHT
DIMENSIONS
200mm W | 80mm H | 260mm D
WEIGHT
Kg. 4 – net
Kg. 5 – boxed
FINISHES
BLACK
Black anodised aluminium with a traditional brushed finish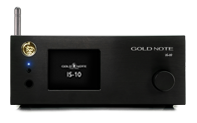 SILVER
Silver anodised aluminium with a traditional brushed finish
GOLD
Gold anodised aluminium with a traditional brushed finish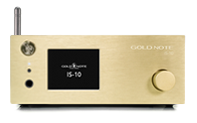 REAR PANEL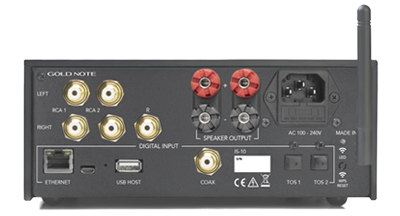 REMOTE CONTROL
REMOTE CONTROL
Multifunctional remote control included
FIRMWARE UPDATES
VERSIONE 2.2.8
Implemented new firmware update feature to launch the update via GN Control
Improved management for Gapless albums/tracks
Fixed minor bugs when setting DAC mode from GN Control
Download and install the latest firmware version from the SETTINGS menu.