The MC cartridge that every audiophile should have
Machiavelli is unparalleled in guaranteeing high–quality audio performance. Enclosed in an elegant alloy body, this cartridge offers surprising fluidity and extended dynamics, which make it an undisputed reference point in the MC cartridge field.
As the result of a decade of research and development, the Machiavelli MkII is designed to satisfy even the most demanding enthusiast: thanks to its superb dynamic performance and perfect smoothness, listening to an LP will no longer be the same experience.
The cartridge is available in two models: Gold, with a low output level of 0.4mV; and Red, with an output level of 0.5mV. The extra rigid cantilever of the cartridge mounts high precision diamonds – Line Contact cut on the Gold model and Micro Elliptical on the Red model – both born from the collaboration with Ogura, one of the best diamond producers in the world.
Technical specifications
MACHIAVELLI MKII GOLD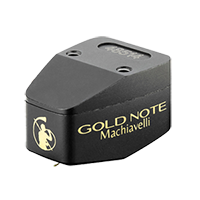 TYPE
MC Low Output Phono Cartridge
OUTPUT LEVEL
0.4mV
FREQUENCY RESPONSE
10-40000Hz
IMPEDANCE
30Ω
SUGGESTED LOAD
470Ω
COMPLIANCE
10×10-6cm/dyne
CHANNEL SEPARATION
> 28dB
SUGGESTED TRACKING WEIGHT
1.8g to 2.1g
CANTILEVER
Boron
DIAMOND
Line Contact
DIAMOND SIZE
5×20μm
COIL WIRE
Copper
MAGNET
Samarium-Cobalt
MOUNTING HOLE DIAMOND DISTANCE
9mm
WEIGHT
10g
BODY
Duralumin 7000 alloy black with golden logo
MACHIAVELLI MKII RED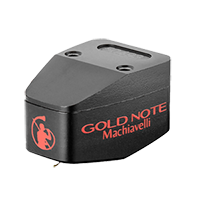 TYPE
MC Low Output Phono Cartridge
OUTPUT LEVEL
0.5mV
FREQUENCY RESPONSE
10-40000Hz
IMPEDANCE
40Ω
SUGGESTED LOAD
470Ω
COMPLIANCE
10×10-6cm/dyne
CHANNEL SEPARATION
> 28dB
SUGGESTED TRACKING WEIGHT
1.8g to 2.1g
CANTILEVER
Aluminium
DIAMOND
Micro Elliptical
DIAMOND SIZE
7.5×15.5μm
COIL WIRE
Copper
MAGNET
Samarium-Cobalt
MOUNTING HOLE DIAMOND DISTANCE
9mm
WEIGHT
10g
BODY
Duralumin 7000 alloy black with red logo