The new frontiers of digital music
The DS-10 is a versatile state-of-the-art streaming DAC, featuring a D/A converter with a cutting-edge streamer, a line preamplifier and a headphone amplifier. In addition to the already complete connectivity, it also features high-definition Bluetooth and audiophile headphone output. The DS-10 supports high-resolution files, such as MQA and DSD (up to DSD512), providing the best audio quality to enjoy your favorite songs. The technology of the DS-10 is enclosed in a compact-sized ultra-rigid aluminium chassis, which makes it the perfect addition to a modern High-End audio system.
With the DS-10, you can stream through Roon, Airplay, Tidal, MQA, Qobuz, Spotify, vTuner, and Deezer or access your collection of digital music stored locally on a NAS or a USB flash drive, controlling the device with our easy-to-use GN Control App on your smartphone or tablet (available for free on iOS and Android).
A fully Roon Ready streamer, the DS-10 is also compatible with all UPnP/DLNA services, and Airplay 2.0. Simply connect it to your network using the Wi-Fi or the Ethernet port and to your power amplifier or active speakers, and get ready to explore the limitless possibilities of high-resolution music.
The DS-10 is equipped with an on/off switchable High-End Analogue Preamp stage to enable the control of the analogue volume using the remote, the SKC or the app GN Control, ensuring the best performance ever. The DS-10 also features a professional 6.3mm headphones output with two sensitivity levels (High/Low), a proprietary technology we developed to get the best out of your headphones. With the additional analogue input, the LINE model becomes the perfect integration between the Gold Note PH-10 phono stage and the PA-10 power amplifier.
The DS-10 has a unique feature that sets it apart from any other DAC, making it the most versatile DAC available today – three different profiles can be selected to fine-tune the performance of the DAC. The DAC behaviour can be changed to adapt to the music played without modifying the audio signal and thus maintaining the highest audio quality, acting on the deemphasis, the low-pass digital filters and the DSD filter. Such profiles can be selected in real-time during music playback delivering a unique listening experience and ease of use thanks to the clear menu on the TFT display. It's time to enjoy the unprecedented listening pleasure that only the DS-10 can offer you!
ROON READY
Being Roon Ready means that Gold Note uses Roon streaming technology, for an incredible user interface, simple setup, rock-solid daily reliability, and the highest levels of audio performance, without compromise.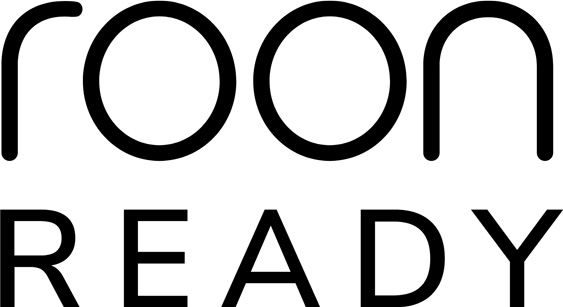 Technical specifications
Main features
D/A CONVERTER CHIP
AKM AK4493 PCM up to 32bit/768kHz and DSD512
FREQUENCY RESPONSE
20Hz-20kHz +/-0.1dB
THD (Total Harmonic Distortion)
0.001% max
SIGNAL TO NOISE RATIO
125dB
DYNAMIC RANGE
120dB
PREAMP STAGE VOLUME CONTROL
Enabled/Disabled
NETWORK CONNECTIVITY
LAN/WLAN (WiFi) 802.11a/b/g/n/ac Dual Band (10/433Mbps) Bluetooth: High Definition 5.0 (44/16)
HIGH QUALITY STREAMING
Roon Ready, Airplay, MQA, Qobuz, Deezer, Spotify Connect, Tidal, Tidal Connect, vTuner
SUPPORTED AUDIO FORMATS (NETWORK)
Up to PCM 32bit/384kHz
DSD256 (DSF, DFF)
AIFF (.aif, .aiff, .aifc)
ALAC
WAV (.wav) packed/unpacked
FLAC
MP3
Apple Lossless
OGG
Monkey's
IMPORTANT: UPnP server must support DSD streaming in order to stream DSD files.
SUPPORTED MEDIA SERVERS
All UPnP
DLNA
Roon
Inputs and outputs
DIGITAL INPUTS
1x RCA coaxial PCM asynchronous up to 24bit/192kHz
1x AES/EBU balanced PCM asynchronous up to 24bit/192kHz
2x TOS-Link PCM asynchronous up to 24bit/192kHz
1x USB-B up to DSD512 and PCM up to 32bit/384kHz
1x USB-A port DSD256 and PCM up to 32bit/384kHz, formatted in
FAT32/NTFS (32Gb max for pen drives)
ANALOGUE INPUT
1x 3.5mm mini-jack (input impedance 10kΩ)
AUDIO OUTPUTS DAC
1x unbalanced RCA 2Vrms
1x balanced XLR 2Vrms
AUDIO OUTPUTS PREAMP
1x unbalanced RCA
1x balanced XLR
1x headphone 6,3mm jack on front panel (double gain)
OUTPUT IMPEDANCE
50Ω
Power
POWER CONSUMPTION
35W
FUSE
2A T
Dimensions and weight
DIMENSIONS
200mm W | 80mm H | 260mm D
WEIGHT
Kg. 4 – net
Kg. 5 – boxed
Finishes
BLACK
Black anodised aluminium with a traditional brushed finish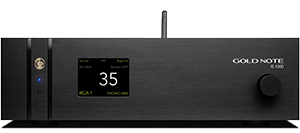 SILVER
Silver anodised aluminium with a traditional brushed finish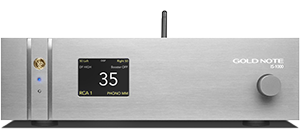 GOLD
Gold anodised aluminium with a traditional brushed finish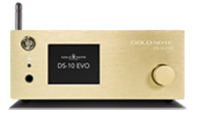 Remote control
REMOTE CONTROL
Multifunctional remote control included
Upgrades
EXTERNAL POWER SUPPLY
PSU-10 EVO External Inductive Power Supply
Models
DS-10
Streaming resolution: up to PCM 24bit/192kHz and DSD64
Wi-Fi 10/100Mbps
Manual: download >
DS-10 PLUS
Streaming resolution: up to PCM 24bit/192kHz and DSD64
Analogue input (3.5mm mini-jack)
Wi-Fi 10/100Mbps
Manual: download >
Rear panels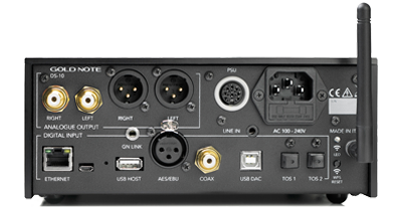 Firmware updates
VERSION 1.82
Minor fixes for gapless when connected via Wi-Fi.
The remote can be used to Play/Pause, Skip forward, Skip backward while streaming with Roon, AirPlay and Spotify.
The remote can be used to Play/Pause while streaming with Tidal and Qobuz.
Selection frame highlights the last changed function.
To download and install the latest firmware version, fill out the firmware update form at this link.