Compact and powerful: the amplifier with outstanding performance
PA-10 is a high-power, compact and extremely versatile power amplifier, suitable for any modern high-end audio system, with the possibility to be used in both Stereo and Mono mode. The aesthetics of the chassis are derived from the other 10 Series products, integrating the PA-10 into a coherent concept inspired by Gold Note's Italian style and modular design. The chassis is made of heavy aluminium panels and carefully selected audio components.
PA-10 was born from the idea of designing a power amplifier with compact dimensions but characterised by high power and the ability to handle any type of loudspeaker. The proprietary technology developed for PA-10 makes it comparable to a Class A amplifier, doubling its power and reducing speaker impedance. It features 75W @ 8Ω, 150W @ 4Ω and 300W @ 2Ω in stereo mode and an amazing 300W @ 8Ω and 600W @ 4Ω in mono mode.
The PA-10 stands out for its great versatility: thanks to its adjustable damping factor and BTL (Bridge-Tied-Load) function, it can be perfectly matched to any type of loudspeaker, whether large and difficult to drive (DF High) or high sensitivity or mini-monitors (DF Low). The XLR stereo output allows the PA-10 to be set up in series for high-quality multi-room solutions, facilitated by an automatic On/Standby mode based on the received audio signal.
The PA-10 is equipped with RCA and XLR inputs and optionally offers the possibility to be connected to two different sources simultaneously. It is easy to use thanks to GN Link technology, which allows two or more amplifiers to be used in master-slave mode with other like-minded units (turn on/off all connected units via GN Link).
Technical specifications
Main features
WOW & FLUTTER
<0,1%
RUMBLE
-82dB
SPEED
33⅓rpm and 45rpm ±0,1%
TURNTABLES CONTROLS
Touchscreen display
SPEED CHANGING
Electronic with fine pitch control
TRANSMISSION
Belt-driven 70 shores rectified belt in EPDM
MOTOR
Ultra-precise 12V synchronous motor
PLATTER
Aluminium and high-density POM (45mm,7Kg)
PLATTER SPINDLE
Split-Spindle™
PLATTER BEARING
Ceramic 4,3mm ball bearing
TONEARM
B-7 Ceramic 
DUST COVER
Smoked acrylic with hinges
Power
POWER SUPPLY
18V output 100-240V / 50-60Hz
POWER CONSUMPTION
Max 27W
FUSE
6,3A T
Dimensions and weight
DIMENSIONS
470mm W, 210mm H, 360mm D | 590mm W, 510mm H, 460mm D – boxed
WEIGHT
Kg. 25 – net Kg. 30 – boxed
Finishes
BLACK
Black anodised aluminium with a traditional brushed finish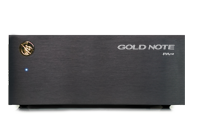 SILVER
Silver anodised aluminium with a traditional brushed finish
GOLD
Gold anodised aluminium with a traditional brushed finish