Contemporary elegance at the service of sound innovation
Valore 425 Plus is a turntable that stands up to comparison in its category. Designed to enhance the pleasure of listening, its audio performance is unbeatable. When playing a vinyl it reproduces every detail. The design is elegant and contemporary, yet classic. The 30 mm plinth, available in 4 different finishes, has been designed to reduce vibrations and guarantee a sound quality worthy of true audiophiles. Handcrafted in Italy with top quality materials, its name announces a promise: Valore 425 Plus indeed reflects all its qualities in the quality–price ratio and has the credentials to become the sound reproduction tool that everyone desires.
The 60mm platter bearing and spindle are finely machined to offer the best dynamics possible, together with the high-density POM platter, making Valore 425 Plus an extraordinary turntable.
The silent 12V synchronous motor ensures high torque and perfect rotation stability, eliminating vibrations and friction. The speed modes – 33⅓rpm and 45rpm – are electronically controlled and can be adjusted precisely, making Valore 425 the ideal companion for any Hi-End system. Despite its compact size, Valore 425 Plus supports a standard 9″ arm. The package includes the B-5 Gold Note arm and a removable transparent acrylic dust cover.
Technical specifications
MAIN FEATURES
WOW & FLUTTER
0.2%
RUMBLE
-75db
SPEED
33⅓rpm and 45rpm ±0,1%
SPEED CHANGING
Electronic with fine pitch control
TRANSMISSION
70 shores rectified NBR belt
MOTOR
high torque 12V synchronous
PLATTER
23mm in POM
PLATTER SPINDLE
Split-Spindle™ clamping design
PLATTER BEARING
Chromed Steel 5mm ball bearing
TONEARM
Gold Note B-5 (derived from B-5.1)
DUST COVER
Transparent with hinges
POWER
POWER SUPPLY
18V DC
100-240V / 50-60Hz
POWER CONSUMPTION
max 20W
DIMENSIONS AND WEIGHT
DIMENSIONS
425mm W | 160mm H | 360mm D
WEIGHT
Kg. 9,5 – net
Kg. 15 – boxed
FINISHES
ITALIAN WALNUT
With black platter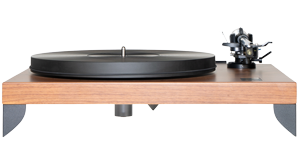 BLACK LACQUER
With black platter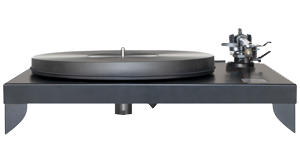 TRANSPARENT ACRYLIC
With opaline white platter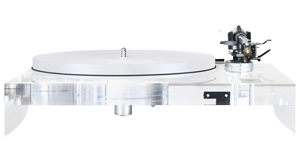 SILVER FOIL
With black platter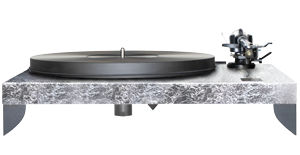 UPGRADES
EXTERNAL POWER SUPPLY
PST-1 external inductive power supply for turntables (only 18V)
PST-10 external inductive power supply for turntables