The external power supply that magnifies the PH-10
The PSU-10 external power supply is designed to improve the performance of the Gold Note PH–10 pre-phono, thanks to its hybrid Super Inductive Dual Choke technology. It is characterized by an inductive filter on the analogue stage and is powered by a double inductor that drives the high current stages both negative and positive. This proprietary technology is able to perfectly filter the signal voltage to eliminate any interference and electrical noise from the AC power system, achieving complete isolation and creating an ideal environment for the PH-10 phono stage to perform at its best.
The power and cleanliness of sound generated by PSU-10 allow for reduced interference, ensure better dynamics and resolution, restore the smallest sound details and reproduce the musical event in an extremely realistic way. Dedicated to the pre-phono PH-10, the PSU-10 power supply has 4 power stages with 4 very low noise voltage regulators. The device is powered by 4 transformers, 3 of which are dedicated to the power supply and 1 to the special dual choke inductive filter. The PH-10 must be updated with the latest firmware to be compatible with the PSU-10 power supply; to know how to update your PH-10 consult the Download area of the website.
Technical specifications
MAIN FEATURES
TECHNICAL FEATURES
Four rail audio grade power supply
Four ultra-low-noise voltage regulators
MAXIMUM VARIATION OF OUTPUT VOLTAGE
0,05 %
LINE NOISE REJECTION
>80dB
COMMON MODE NOISE REJECTION
>80dB
FULL POWER RESPONSE TIME
<2,5µsec
POWER
POWER SUPPLY
100-120V / 220-240V with auto sense, 50/60Hz
POWER CONSUMPTION
70W
DYNAMIC POWER
>100W
STAND BY POWER
<1W
FUSE
2A T
DIMENSIONS AND WEIGHT
DIMENSIONS
200mm W | 80mm H | 260mm D
WEIGHT
Kg. 4 – net
Kg. 5 – boxed
FINISHES
BLACK
Black anodised aluminium with a traditional brushed finish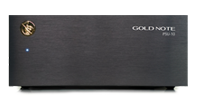 SILVER
Silver anodised aluminium with a traditional brushed finish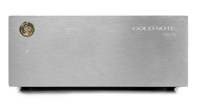 GOLD
Gold anodised aluminium with a traditional brushed finish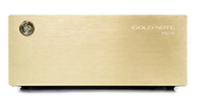 REAR PANEL