The external inductive power supply dedicated to the PH-5
The PSU-5 is the external power supply dedicated to the PH-5 phono stage, it's the perfect upgrade to enhance the performance of the Gold Note analogue system and deliver flawless vinyl reproduction. It's inspired by the same philosophy behind our series of external PSUs, such as the PSU-10 and PSU-1000. The design leverages a linear power supply with dedicated transformers, custom-made in Italy to specs, to provide high-quality power with consistency.
In addition to that, it features an inductive filter to prevent noise and interference from the AC power grid.
The PSU-5 features a 2-transformer circuit for the linear power supply stage in order to effectively provide the best working condition to the PH-5, with plenty of ultra-clean power.
This allows the PSU-5 to prevent noise from the AC, which is also further removed by the dual-choke inductive filter developed with a dedicated transformer completely shielding the PH-5. The large and ultra-clean power generated also enables greater dynamic and finer audio details guaranteeing the best realism and stage reconstruction.
Technical specifications
MAIN FEATURES
TECHNICAL FEATURES
3 rail audio grade power supply
3 ultra-low noise voltage regulator
MAXIMUM VARIATION OF OUTPUT VOLTAGE
0,05 %
LINE NOISE REJECTION
>80dB
COMMON MODE NOISE REJECTION
>80dB
FULL POWER RESPONSE TIME
<2,5µsec
POWER
POWER SUPPLY
100-120V / 220-240V with auto sense, 50/60Hz
POWER CONSUMPTION
25W
DYNAMIC POWER
>50W
STAND BY POWER
<1W
FUSE
0,5A T
DIMENSIONS AND WEIGHT
DIMENSIONS
200mm W | 80mm H | 260mm D
WEIGHT
Kg. 2 – net
Kg. 3 – boxed
FINISHES
BLACK
Black varnished steel and aluminium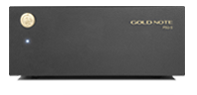 REAR PANEL