Attention to every detail awakens new musical sensations
Pianosa's philosophy reflects the entire range of Gold Note turntables: innovative shapes and materials of the highest quality in service of the best sound experience. The lower plinth, whose shape is inspired by the catenary curve, is available in walnut wood or black lacquered MDF and is handmade by the best Italian craftsmen: every single piece is carefully selected and carefully worked in a crucial working process thanks to which the "heart" of each turntable takes shape. The upper plinth is produced in black lacquered MDF, 20 mm thick and reinforced by a 3 mm stainless steel plate, which guarantees its rigidity. The result is an audio performance that exceeds all expectations.
The 12V synchronous motor control system and materials chosen for Pianosa are directly derived from the top-of-the-line Gold Note models. The result is a device that eliminates vibrations while reproducing the smallest details and excellent dynamic response. Pianosa features a high-precision pivot system with very low tolerance to minimize friction during operation. The tempered steel platter spindle perfectly mates with the chrome steel ball bearing, achieving perfect rotation fluidity and low noise.
Technical specifications
MAIN FEATURES
WOW & FLUTTER
0.1%
RUMBLE
-77db
SPEED
33⅓rpm and 45rpm ±0,1%
SPEED CHANGING
Electronic with fine pitch control
TRANSMISSION
70 shores rectified NBR belt
MOTOR
high torque 12V synchronous
PLATTER
23mm Dampened Poly-Vinyl
PLATTER SPINDLE
Split-Spindle™ clamping design
PLATTER BEARING
Chromed Steel 5mm ball bearing
TONEARM
Gold Note B-5.1
DUST COVER
Transparent with hinges
POWER
POWER SUPPLY
18V output
100-240V / 50-60Hz
POWER CONSUMPTION
max 27W
DIMENSIONS AND WEIGHT
DIMENSIONS
425W | 170H | 360D mm
550W | 480H | 480D mm – boxed
WEIGHT
Kg. 25 – net
Kg. 30 – boxed
FINISHES
ITALIAN WALNUT 
With black lacquered MDF upper plinth, black anodized aluminium metal parts and black platter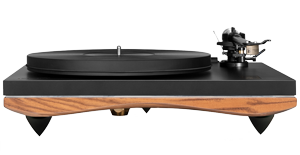 BLACK LACQUERED MDF
With black lacquered MDF upper plinth, black anodized aluminium metal parts
and black platter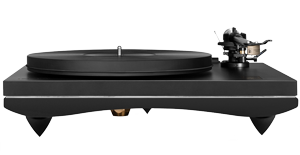 UPGRADES
EXTERNAL POWER SUPPLY
PST-10 external inductive power supply for turntables