Donatello is the best MC cartridge in its category. Thanks to its durable aluminium structure, solid yet extremely light – the body weighs only 7 grams to allow pairing with any tonearm – it can deliver optimal sound performance in any system.
Born from a sophisticated computer modelling design process, it leverages its optimised design to minimize weight and reduce vibrations, allowing the cantilever to achieve the best possible tracking capability.
The high-precision Micro Elliptical diamond allows for extracting every musical detail. The Donatello cartridges are available in two versions, the Gold with low output (0.5mV) and the Red with high output (1.8mV), to easily match it even with the MM phono stages.
Technical specifications
DONATELLO GOLD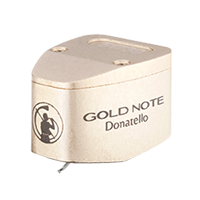 TYPE
MC Low Output Phono Cartridge
OUTPUT LEVEL
0.5mV
FREQUENCY RESPONSE
10-40000Hz
IMPEDANCE
40Ω
SUGGESTED LOAD
470Ω
COMPLIANCE
12×10-6cm/dyne
CHANNEL SEPARATION
24dB
CHANNEL BALANCE
< 1dB
SUGGESTED TRACKING WEIGHT
1.8g to 2.1g
CANTILEVER
Aluminium
DIAMOND
Micro Elliptical
COIL WIRE
Copper
MAGNET
Samarium-Cobalt
MOUNTING HOLE DIAMOND DISTANCE
9mm
WEIGHT
7g
BODY
Duralumin alloy gold with black logo
DONATELLO RED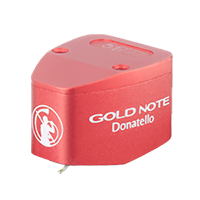 TYPE
MC High Output Phono Cartridge
OUTPUT LEVEL
1.8mV
FREQUENCY RESPONSE
10-35000Hz
IMPEDANCE
140Ω
SUGGESTED LOAD
47kΩ
COMPLIANCE
12×10-6cm/dyne
CHANNEL SEPARATION
24dB
CHANNEL BALANCE
< 1dB
SUGGESTED TRACKING WEIGHT
1.8g to 2.1g
CANTILEVER
Aluminium
DIAMOND
Micro Elliptical
COIL WIRE
Copper
MAGNET
Samarium-Cobalt
MOUNTING HOLE DIAMOND DISTANCE
9mm
WEIGHT
7g
BODY
Duralumin alloy red with white logo