Uncompromising musical pleasure
The Tuscany series can satisfy even the most experienced ear, guaranteeing unprecedented quality standards. These phenomenal cartridges are characterized by an ultra–thin stylus and a Micro Ridge diamond developed in collaboration with Adamant–Namiki, the best high–precision diamond producer in the world. Their exclusive cut allows for perfect contact with the vinyl groove, from which they unleash unprecedented performance.
The long connectors, gold-plated, guarantee an ideal contact with the tonearm's cinch to preserve the signal to the maximum and improve the grounding, restoring every musical event in its single details. The Tuscany cartridges are available in two models, Gold and Red, with precious coils respectively in silver and copper.
Com
bine
d with the
 B-7 Ceramic X ton
earm
 and
t
h
e
Medit
err
ane
o X tu
rn
t
a
ble
, i
t r
epr
es
en
t
s
the p
ea
k o
f
Hi
-End
in t
he analogue
 f
iel
d,
com
plet
ely
ha
nd
made
in I
tal
y.
Technical specifications
TUSCANY GOLD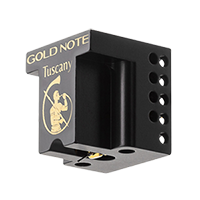 TYPE
MC Low Output Phono Cartridge
OUTPUT LEVEL
0.25mV
FREQUENCY RESPONSE
5-55000Hz
IMPEDANCE
4Ω
SUGGESTED LOAD
47Ω
COMPLIANCE
10×10-6cm/dyne
CHANNEL SEPARATION
> 35dB
SUGGESTED TRACKING WEIGHT
1.8g to 2.1g
CANTILEVER
Boron
DIAMOND
Super Micro Ridge
COIL WIRE
Silver
MAGNET
Samarium-Cobalt
MOUNTING HOLE DIAMOND DISTANCE
6,5mm
WEIGHT
11g
BODY
Duraluminium 7000 alloy black with golden logo
TUSCANY RED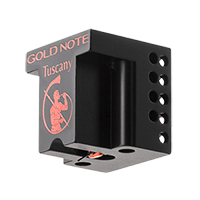 TYPE
MC Low Output Phono Cartridge
OUTPUT LEVEL
0.35mV
FREQUENCY RESPONSE
10-50000Hz
IMPEDANCE
20Ω
SUGGESTED LOAD
> 200Ω
COMPLIANCE
10×10-6cm/dyne
CHANNEL SEPARATION
> 30dB
SUGGESTED TRACKING WEIGHT
1.8g to 2.1g
CANTILEVER
Boron
DIAMOND
Micro Ridge
COIL WIRE
Copper
MAGNET
Samarium-Cobalt
MOUNTING HOLE DIAMOND DISTANCE
6,5mm
WEIGHT
11g
BODY
Duralumin 7000 alloy black with red logo