The new generation MM cartridge
Vasari's innovative design is the result of a long research and development phase to create a high-performance MM cartridge. The body is made from a single machined piece of solid aluminium 7000 alloy to ensure high damping power and assisted by an ultra-light aluminium cantilever – inserted directly into the body to minimize any unwanted vibration – so that Vasari can extract even the finest details from the vinyl groove.
The new Vasari Shibata, thanks to the peculiar shape of its stylus designed by Mr Shibata in the 70s – basically an evolution of the elliptical shape with extra special cuts on one end creating a hybrid asymmetrical shape – allows an incredible increase of surface area contact whilst a significant reduction of total pressure into the vinyl groove. The result is that the Vasari Shibata can produce a nearly perfect playback reaching all areas of the vinyl groove but reducing the wear of both the record and the diamond.
Vasari is also available in the Gold model, with a Duralluminio body, and in the Red one, made with a special ultra-damping photopolymer resin. All of the Vasari models have an output level of 4mV.
Technical specifications
VASARI SHIBATA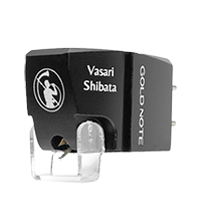 TYPE
MM Phono Cartridge
OUTPUT LEVEL
4mV
FREQUENCY RESPONSE
10-30000Hz
IMPEDANCE
500Ω
INDUCTANCE
500mH
SUGGESTED LOAD
47kΩ
COMPLIANCE
10×10-6cm/dyne
CHANNEL SEPARATION
> 25dB
SUGGESTED TRACKING WEIGHT
2g
CANTILEVER
Aluminium
DIAMOND
Shibata
DIAMOND SIZE
3.5 x 20μm
COIL WIRE
Copper
MAGNET
Alnico
MOUNTING HOLE DIAMOND DISTANCE
9mm
WEIGHT
9.5g
BODY
Duraluminium alloy
VASARI GOLD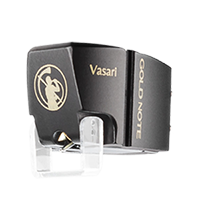 TYPE
MM Phono Cartridge
OUTPUT LEVEL
4mV
FREQUENCY RESPONSE
15-25000Hz
IMPEDANCE
1000Ω
INDUCTANCE
500mH
SUGGESTED LOAD
47kΩ
COMPLIANCE
10×10-6cm/dyne
CHANNEL SEPARATION
> 22dB
SUGGESTED TRACKING WEIGHT
2g
CANTILEVER
Aluminium
DIAMOND
Elliptical
DIAMOND SIZE
7.5×15.5μm
COIL WIRE
Copper
MAGNET
Alnico
MOUNTING HOLE DIAMOND DISTANCE
9mm
WEIGHT
9.5g
BODY
Duralumin black with golden logo
VASARI RED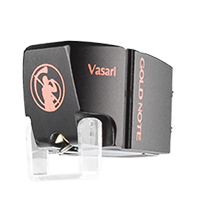 TYPE
MM Phono Cartridge
OUTPUT LEVEL
4mV
FREQUENCY RESPONSE
15-25000Hz
IMPEDANCE
1000Ω
INDUCTANCE
500mH
SUGGESTED LOAD
47kΩ
COMPLIANCE
10×10-6cm/dyne
CHANNEL SEPARATION
> 20dB
SUGGESTED TRACKING WEIGHT
2g
CANTILEVER
Aluminium
DIAMOND
Conical
DIAMOND SIZE
15.5μm
COIL WIRE
Copper
MAGNET
Alnico
MOUNTING HOLE DIAMOND DISTANCE
9mm
WEIGHT
7g
BODY
Photopolymer resin black with red logo