The PH-1000 TRIO set up combines three Gold Note components in a multi-chassis phono stage to offer the full potential of the PH-1000. Two different configurations are available: the Premium version and the Lite version.
The Premium edition of the PH 1000 TRIO set-up assembles the PH 1000 phono stage with PSU 1250 power supply and TUBE 1012 power output stage, while the Lite version consists of the PH 1000 combined with PSU 1000 power supply and TUBE 1006 power output stage
Phono stage
PH-1000, PH-1000 LINE and PH-1000 LITE
The PH-1000 is simply the best phono stage ever created by Gold Note: a unique piece of audio engineering, innovative in every aspect and completely made in Italy.
It features exclusive Class A components such as a headphone output, infinite EQ curves including 4 customisable presets, plus 36 EQ curves and a Class A line preamplifier (optional). For the first time, it will be possible to play any vinyl exactly as it should be heard, thanks to the infinite EQ curves available. That's why the PH-1000 changes the rules of the game, opening the door to a new era of vinyl reproduction.
Discover more
valves output stages
TUBE-1012 and TUBE-1006
TUBE-1012 and TUBE-1006 further improve the performance of Gold Note electronics, reaching a completely new level thanks to the 12-valve (TUBE–1012) or 6-valve (TUBE–1006) class A output stages. Gold Note sources and amplifications guarantee great control and definition while providing exceptional realism in recreating the musical event.
Discover more
external power supplies
PSU-1250 and PSU-1000
PSU-1250 and PSU-1000 are the super inductive external power supplies dedicated to the 1000 Gold Note series, such as CD–1000 MkII, P-1000 MkII and PH–1000. Both PSU-1250 and PSU-1000 are the result of a sophisticated design with an inductive filter on the analog stage and power supply via a double inductor for the positive and negative stage.
Discover more
Technical specifications
MODELS
PH-1000 TRIO PREMIUM
Combine PH-1000 or PH-1000 LINE, the TUBE-1012 valves output stage and the PSU-1250 external powerr supply.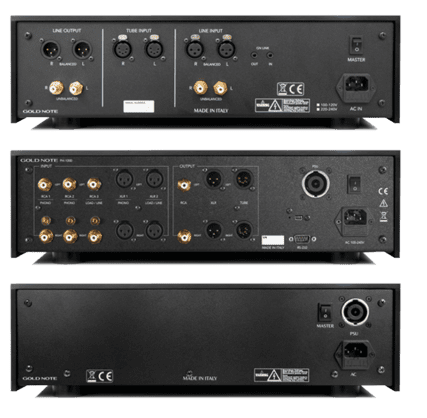 PH-1000 TRIO LITE
Combine the PH-1000 LITE, the TUBE-1006 valves output stage and the PSU-1000 external powerr supply.