The extraordinary phono stage
PH–10 is an ultra-versatile phono preamplifier with unique features, including EQ curve, load and gain adjustment: a fully analogue design crafted with the best components to recreate the musical event in the most natural way possible. To control PH–10 Gold Note has developed the intuitive Single Knob Control (SKC) which, in combination with the color display, allows to quickly adjust any function without interrupting the audio playback. The PH–10 allows selecting the most appropriate equalization curve for each record: RIAA, DECCA LONDON or AMERICAN COLUMBIA, through the menu present on the display. Thanks to our proprietary technology, inspired by the Neumann Cutting Lathe, each curve can be further enhanced with the "enhanced" function.
Nine different loading options [10Ω, 22Ω, 47Ω, 100Ω, 220Ω, 470Ω, 1000Ω, 22KΩ, 47KΩ] and four different gain options selectable [0dB, ± 3dB, +6dB] allow you to accurately adjust the preamplifier and get the best sound experience with any type of MM and MC cartridge. Through the two separate RCA inputs, it is possible to connect two different arms to PH-10, each with independently adjustable settings that can be saved in memory even when the unit is off, ensuring extreme flexibility and intuitiveness. To maximize the performance of PH-10 Gold Note has developed PSU-10, an external super inductive power supply that allows the phono stage to fully express its potential, restoring with extreme realism, three-dimensionality and precision the sound of vinyl.
Technical specifications
MAIN FEATURES
EQUALISATION CURVE CONTROL
3 EQ curves (RIAA, Decca London, American Columbia) all with Enhanced option
INFRASONIC FILTER
10Hz/36dB octave
FREQUENCY RESPONSE
20Hz /20kHz
[Enhanced 20Hz-50kHz] @ +/-0.3dB
THD (Total Harmonic Distortion)
<0.05% @1kHz
SIGNAL TO NOISE RATIO
89dB
DYNAMIC RESPONSE
105dB
INPUTS AND OUTPUTS
ANALOGUE INPUTS
MM/MC two independent stereo RCA
INPUT SENSITIVITY
0.1mV MC up to 10.0mV MM
INPUT IMPEDANCE
9 options [10Ω, 22Ω, 47Ω, 100Ω, 220Ω, 470Ω, 1000Ω, 22kΩ, 47kΩ]
GAIN
45dB MM to 65dB MC with 4 options [0dB, ± 3dB, + 6dB]
CAPACITANCE (MM ONLY)
220pF
AUDIO OUTPUTS
1x unbalanced RCA
1x balanced XLR (+12dB)
OUTPUT IMPEDANCE
50Ω
POWER
POWER CONSUMPTION
10W Super Linear supply
STANDBY CONSUMPTION
< 0,5W
POWER SUPPLY
100-120V or 220-240V, 50/60Hz
FUSE
0,5A F
DIMENSIONS AND WEIGHT
DIMENSIONS
200W | 80H | 260D mm
290W | 180H | 390D mm – boxed
WEIGHT
Kg. 3 – net
Kg. 4 – boxed
FINISHES
NERO
Alluminio spazzolato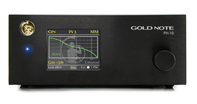 ARGENTO
Alluminio spazzolato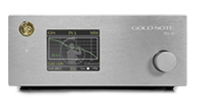 ORO
Alluminio spazzolato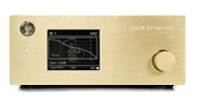 REAR PANEL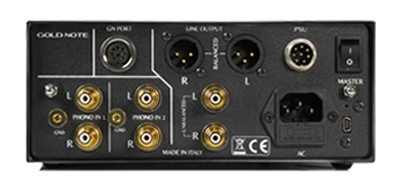 UPGRADES
EXTERNAL POWER SUPPLY
PSU-10 External Inductive Power Supply
FIRMWARE UPDATES
VERSION 153
Introduced brightness adjustment for the display.
To download and install the latest firmware version, click here
If your PH-10 has a serial number <56802, the first firmware update has to be performed by your GN dealer.